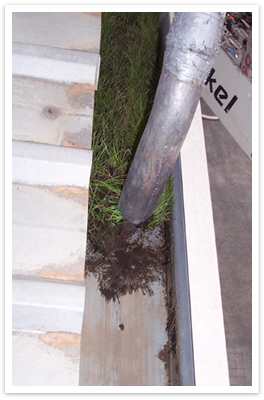 Why Clean Your Gutters and Downpipes?
The guttering system in your home is designed to catch the most water possible from your roof – whether that water is disposed of through the stormwater system or it is being stored for usage around the home. If the gutters or downpipes are clogged at any point, the water cannot drain away as it should, causing it to flow over the gutters or underneath the fascia. The water could eventually find its way into the ceiling, foundation or inner walls, not to mention inside the windows. This can lead to structural damage to the property.
You don't have to be surrounded by trees to get blocked gutters.
Dust settles on roofs and washes into gutters, collecting in low or flat spots as silt, providing a foothold for weed seeds which have been spread by wind and birds. Grass and weeds can grow in gutters for long periods, undetected until they become visible over the top of the gutter, by which time they are totally blocked. Roots can grow into downpipes that have filled with dirt, completely blocking them and sometimes necessitating their removal in order to clear them, or in the worst cases, causing them to require replacement.
Moss loves growing in the shady overhang under tiles or metal sheets, particularly on the Southern, or shady sides of buildings and thrives in the shade provided by gutter-guards.
Another common problem is bird nests and bird/possum droppings which not only cause blockages but are a health hazard as well.
Blocked gutters & downpipes can cause premature rusting as well as flooding and overflows.
Increasingly, insurance companies are refusing to pay out on water damage caused by blocked gutters, downpipes & storm-water drains.
A build-up of leaves and other debris in gutters & valleys & on roofs can also be a fire hazard.
Why use professionals to clean your gutters?
Why risk death, serious injury or property damage climbing on roofs or ladders when you can have a fully trained professional do the job for you. We have all the necessary safety equipment and expertise to get the job done safely and efficiently. Cleaning gutters by hand only gets part of the job done, often leaving behind debris in the gutters, and can tear your hand to shreds.