Welcome to the Apex Vacuum Gutter Cleaning website..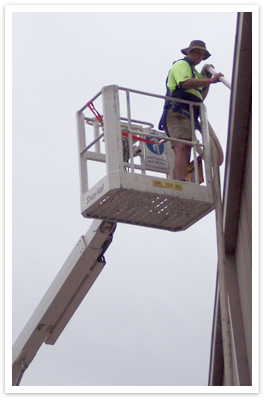 About Us
Apex Vacuum Gutter Cleaning use a trailer-mounted, diesel powered, high volume vacuum system with a 1000 litre debris tank to clean gutters, downpipes and storm-water pits and drains. It enables us to perform safe, clean and efficient work in between ½ to ¼ of the time taken by those cleaning gutters by hand. All waste is removed and the site is always left clean.
We also have a high pressure water jetting unit for cleaning out blocked storm water drains. This can also be used for general pressure washing, subject to water restrictions, or availability of recycled water.
We have a comprehensive range of safety equipment and all staff are fully trained in their use and have completed a course in height safety at Holmesglen Institute of Tafe. Staff are also licensed to use Elevating Work Platforms (EWP).
We currently carry out work on buildings of all shapes and sizes, including private houses, bodies-corporate, schools, churches, nursing homes, warehouses, factories and council buildings.